SteelStacks' Security Network Gets Reliable Connectivity from Siklu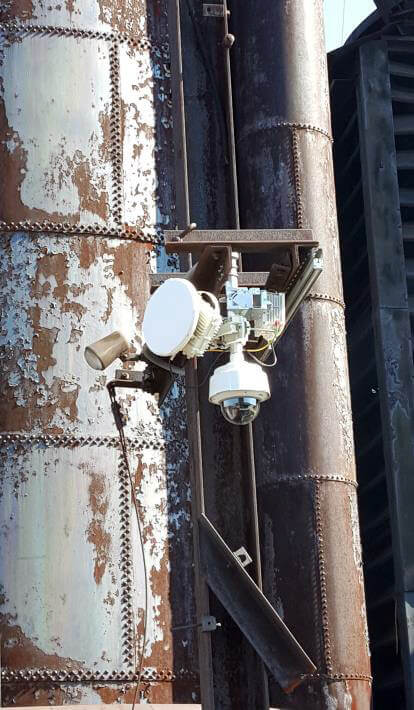 Background:
Located in the heart of the historic Bethlehem Steel home plant in Pennsylvania, lies the cultural heritage site, SteelStacks. The 10-acre area has been repurposed as a community gathering place using the idle blast furnaces as a backdrop for public green space, and arts and entertainment centers. The Bethlehem Redevelopment Authority initiated the project to transform the Hoover-Mason Trestle, once used to shuffle materials, into an elevated walkway over the SteelStacks cultural and entertainment campus. Raised 46 feet above the ground, the trail runs 1,650 feet.
Business Challenge:
Secure the SteelStacks area from criminal activities (such as vandalism, theft and violence)
Provide crowd management in surveilled area
Establish a reliable and secure high capacity wireless network:

Short hauls between cameras located at the walking path area
Mid hauls to remote rooftop used as part of a wireless network for Bethlehem Police department (BPD)
Resilient to interference from visitor devices operating over Wi-Fi (2.4/5GHz)

Installable within days
Small footprint to avoid unwanted attention and maintain authentic landscape
Provide ample scalability and modularity in order to accommodate future expansions
Deployment/System Integration:
System integrator LTW has deployed Siklu's connectivity solutions in a number of projects and Siklu was their first choice for reliable video surveillance in a crowded environment. Siklu's 60, 70/80GHz radios transmit on different frequencies than Wi-Fi, and therefore offer a reliable and interference-free operation of CCTV streams, even in potentially congested areas with much anticipated Wi-Fi activity, such as the Trestle.
The surveillance system of the Hoover Mason provides continuous monitoring of the public walkway. LTW utilized Axis cameras and Siklu's EH-600Ts deployed at street level in a daisy chain configuration on poles. Video from the cameras is aggregated to a Siklu EH-1200FX Radio installed on the roof of a building close to the end of the path. Video footage from the aggregation point is transmitted over additional Siklu links in the city to key active monitoring and control locations, such as the BPD and BRA networks.
Genetec's Video Management System is used to federate the Bethlehem Housing Authority and the Lehigh University Police Department cameras to the Bethlehem Police Department, enabling the Bethlehem Police Department to see the cameras from both agencies. Mobile command vehicles and personal devices are connected to the Genetec solution providing first responders access to video from remote locations. Having this mobility allows a great many other agencies assisting at events access to live feeds.
"When it came to selecting a solution, I do not recall any real competition to the speedy deployment and easy integration of Siklu's powerful EH-600T AND EH-1200FX radios."
"Axis is very excited to partner with Siklu to provide solution architecture for physical security. Siklu's ease of deployment and scalability make an ideal solution to solve these types of wireless requirements quickly and easily."
Ready to get started?
Contact LTW today at sales@ltw.com or 973-882-9885, for more information.